Liposomal immune booster
Sale price
€18,70
Regular price
Unit price
per
Scope of packaging of 48 immune booster capsules, which are sufficient for 48 applications
Free from sugar and gluten
Extensive active ingredient complex thanks to high-quality ingredients
Beadlet capsule with slow release technology.
Ensures gradual release over a 12-hour period
Delivered in 1-3 business days
Details

The gluten and sugar free immune booster capsules are available in a pack of 48 capsules. Our supplement does not contain any genetically modified substances.

The special application of liposomal encapsulation technology ensures high bioavailability. Our capsules help you to strengthen your body and your immune system and give you more energy.
Ingredients

Vitamin C (as Ascorbic Acid), Bulking Agent (Microcrystalline Cellulose), Stabilizer (Gum Arabic), Capsule Shell (HPMC), Zinc (as Zinc Oxide), Emulsifier (Lecithin; Sunflower), Binder (Ethylcellulose), Dextrin, Vitamin D3 (as Cholecalciferol)

| Ingredients: | As a daily dose: | %NRV |
| --- | --- | --- |
| vitamin C | 250mg | 312.5 |
| zinc | 7.5mg | 75 |
| Vitamin D3 | 12.5mcg/500IU | 250 |
How to use

Recommended Daily Portion: Take 1 capsule daily before a meal with a glass of water or juice.
The recommended daily dose should not be exceeded. This dietary supplement is not suitable for children. Dietary supplements are not a substitute for a healthy diet and/or lifestyle.
Safety instructions

Keep tightly closed and store in a cool, dry place (<25°C).

Keep out of reach of children. Dietary supplements are not a substitute for a balanced diet.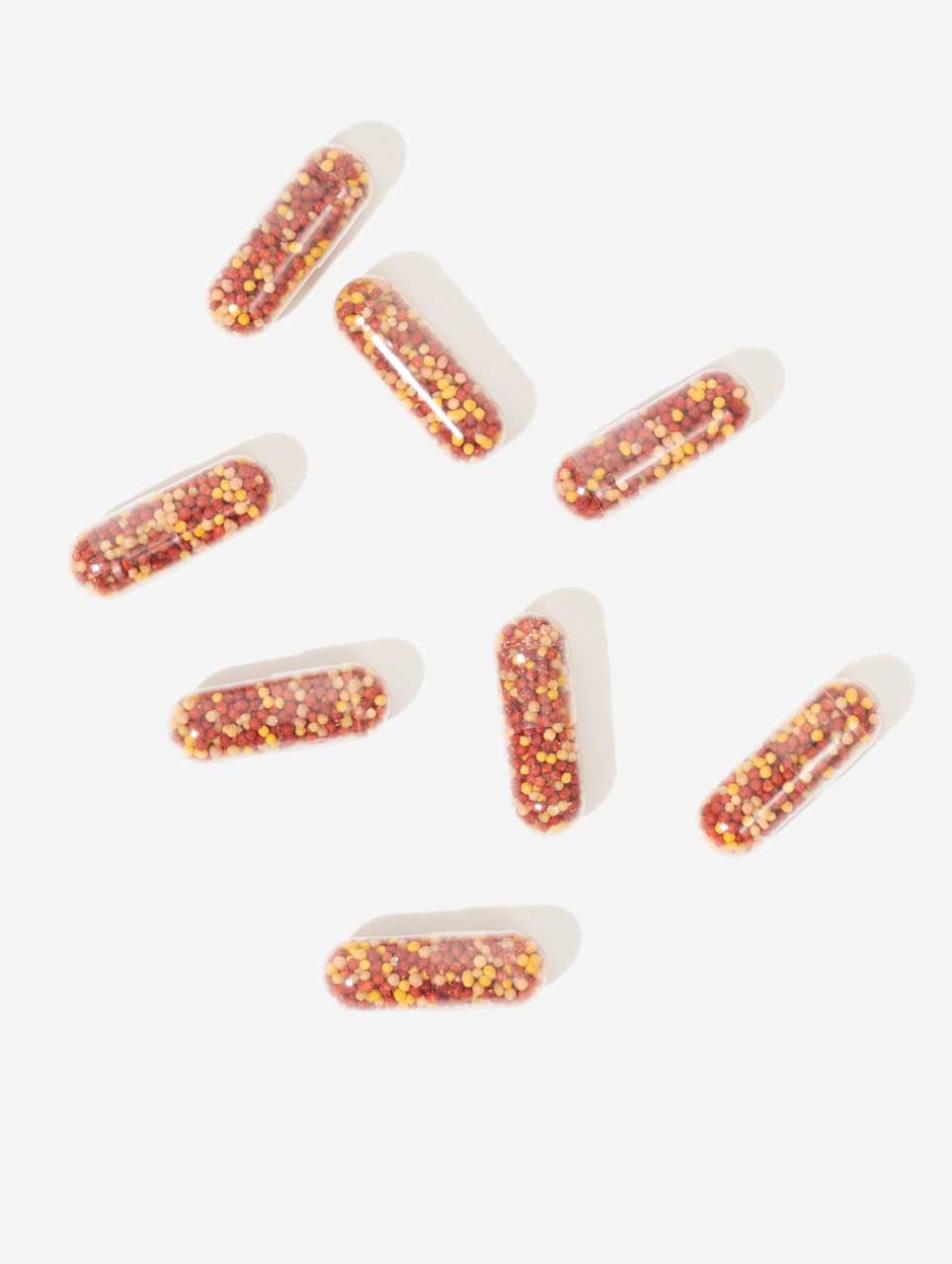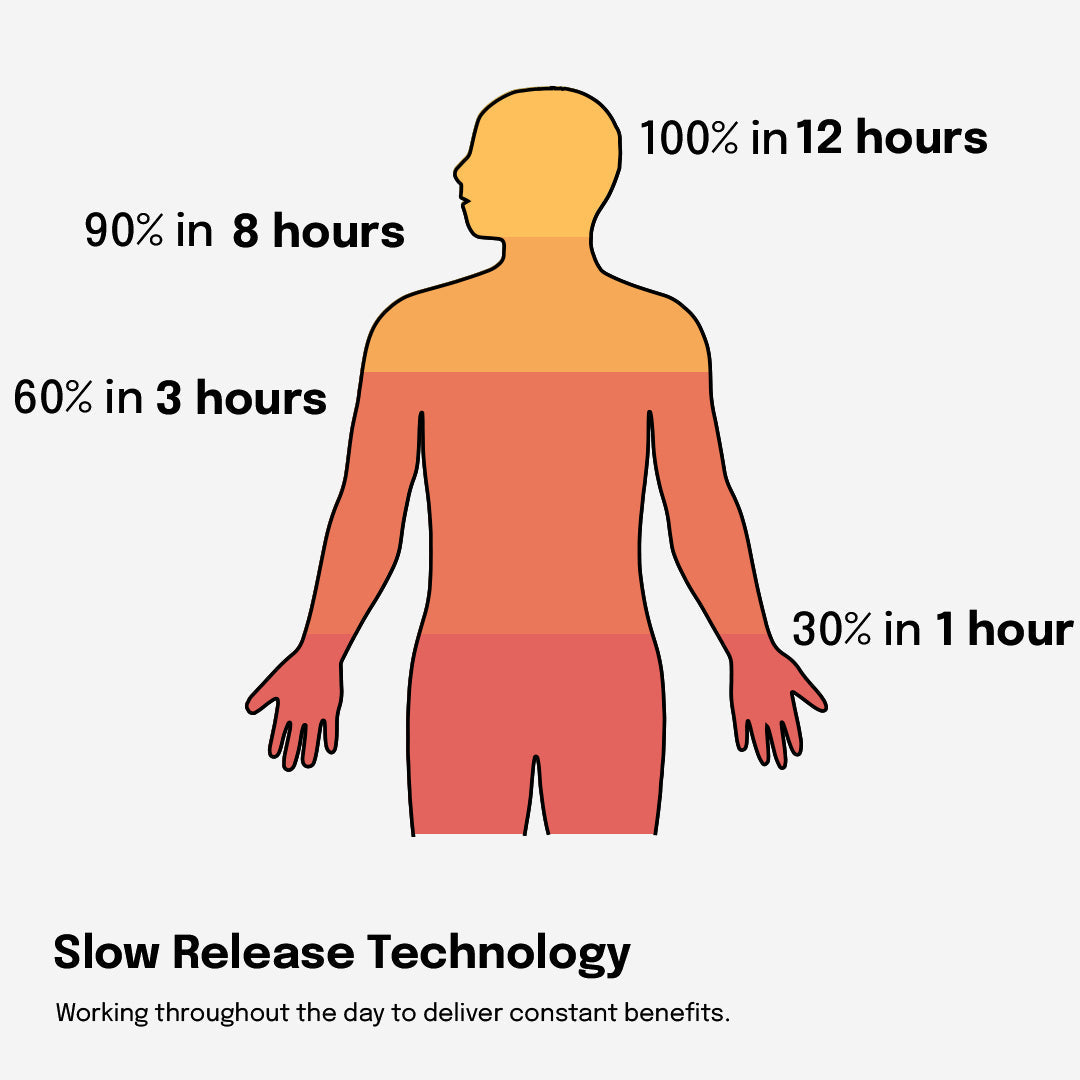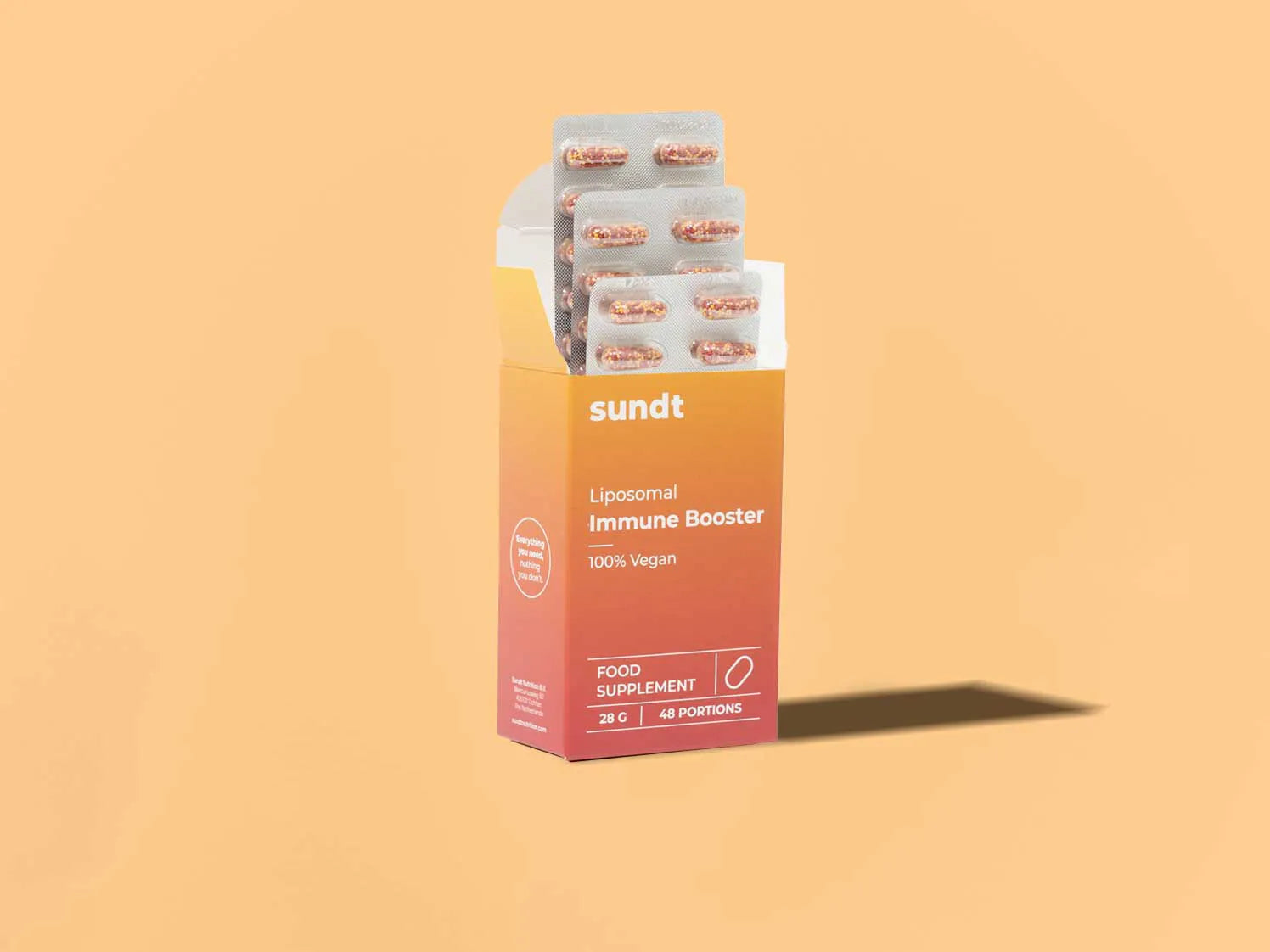 Immune booster for best health
The immune system – probably the most important part of the body. It supports you in a variety of processes and takes on many important tasks. When the immune system is strong, it can protect you from pathogens, control the body's bacterial flora, help heal wounds, and even recognize faulty body cells. However, the immune system of many nowadays is weakened. This usually comes from an unbalanced diet and too little exercise. Our liposomal immune booster helps you to strengthen your immune system, not just in the short term, but over the long term.
energy supplier

Our liposomal immune booster provides you with strength and energy quickly. So you can feel fit again within a very short time.

Strong defenses

Our immune booster strengthens the body's defenses and ensures an improved immune system. Declare war on harmful pathogens!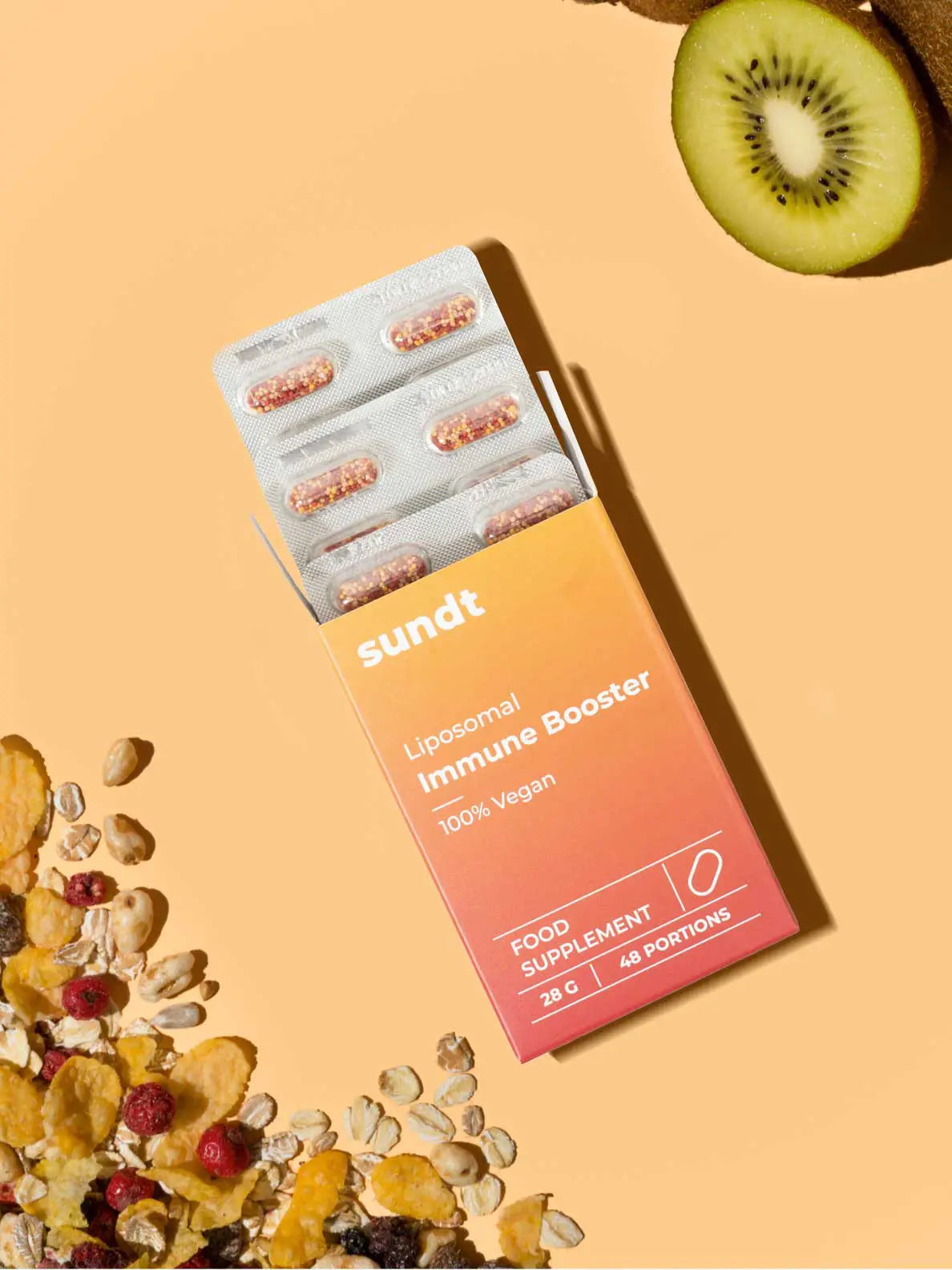 What makes our immune booster so special?
High bioavailability

Thanks to liposomal encapsulation technology, our liposomal immune booster is highly effective. So you don't pay for empty promises.

Free from additives

Sugar? Gluten? genetic engineering? You can search for a long time with our liposomal immune booster. It is free from these unnecessary additives.

Clever combination

The various active ingredients are combined in such a way that they achieve the best possible effect for you.
Liposomal immune booster
Why: Active ingredients
The main components of our immune booster are zinc, vitamin C and vitamin D3. Our immune booster is not only packed with the most important substances for strengthening your immune system, but can also be absorbed particularly well by your body. You can use the full effect of our supplement to do something good for your immune system.
FAQs
What is the liposomal immune booster?

A liposomal immune booster is a very special product. Because here the supplement goes through a very special manufacturing process: the so-called liposomal encapsulation technology. Here the desired active ingredient, in this case our sophisticated immune booster, is integrated into so-called liposomes. You can imagine these as small transport bubbles. Phospholipids are used for this in our products. These have the property that they can absorb both water-soluble and fat-soluble active ingredients.
What are the advantages of the liposomal immune booster?

Because of its liposomal form, our Immune Booster scores highly for its high bioavailability. This is many times higher than that of conventional supplements, because on the one hand the supplement is transported through the liposomes in a protected way. Secondly, the phospholipids combine water- and fat-soluble properties. This means that any type of active ingredient can be well absorbed by the body.

High bioavailability is particularly important for immune boosters. This is the only way to get the full power and strengthen your immune system comprehensively. By embedding them in liposomes, the body can absorb them more easily and more efficiently.
What and when should I use the liposomal immune booster?

Our liposomal immune booster contains vitamin D3, vitamin C and zinc. These ingredients strengthen your immune system and give you new strength. In addition, the big difference between our immune booster and other products is the increased depot effect, processing and better bioavailability.

Zinc is a mineral that helps to strengthen the immune system. Vitamin C helps fight harmful substances, so it boosts your defences. It is also an important element in building connective tissue, cartilage and bones by promoting collagen formation.

Vitamin D, in particular, helps to absorb calcium from food, thus strengthening bones and teeth. But it also has a positive effect on the immune system and muscle growth.

With our Liposomal Immune Booster, you get a real power pack that strengthens your body and has a positive effect on the immune system.
What is the immune system briefly explained?

The immune system is the body's best defense against infection. It protects you from harmful substances and disease-causing cellular changes, including viruses or bacteria that cannot penetrate the skin with their outer shell. Among the many organs involved in this process are white blood cells such as T-cells (T-lymphocytes), which eliminate foreign proteins by binding to them - but only if they're programmed to do so!
How do I recognize a weak immune system?

As a rule, a weak immune system manifests itself in a similar way in everyone, but it can also have symptoms that are not listed here. In any case, you should see a doctor as soon as you realize that your immune system is weakened.

Fatigue, constant or recurring infections, colds, flu, sore throats, allergies and poor wound healing are among the typical symptoms of a weakened immune system.
Which organ is responsible for the immune system?

As the name suggests, it is a system of different parts of the body that take care of the existence and functioning of the immune system. These include the tonsils, lymph nodes, thymus, spleen, liver and bone marrow. Each of these components takes on its own tasks, which ultimately intertwine with the other parts in an extensive process.

The tonsils, for example, belong to the lymphatic system, which takes care of the immune system. The tonsils are a very special protective shield because they are located at the entrance to the trachea and esophagus and can thus fight pests as soon as they enter. The white blood cells that are so important for the immune system are produced in the bone marrow. Lymph nodes exist throughout the body and act like filters for pathogenic substances.
What improves the immune system?

The nutrients that make up a balanced diet and strengthen the immune system are vitamin C, zinc and vitamin D3. They are all included in our immune booster. In addition, vegetables such as kale, tomatoes, broccoli, garlic, mushrooms or spinach should be on the menu.