Liposomal Magnesium
Sale price
€27,95
Regular price
Unit price
per
Liposomal formula with high-quality ingredients



Free of additives such as sugar, gluten
Bottle of 250 ml, corresponds to around 25 applications
Delivered in 1-3 business days
Details

Our product is a liposomal preparation made of magnesium.

This combination ensures a high bioavailability of the ingredients, which is further increased by the liposomal dosage form.

The bottle contains 250 ml, which corresponds to around 25 applications.

Due to its liquid form, it is particularly easy to dose. Our liposomal magnesium is suitable for vegans and is also free from genetic engineering, gluten and sugar.
Ingredients

Liquid food supplement.

Water, stabilizer (sorbitol), acidity regulator (citric acid), magnesium (as magnesium bisglycinate), sweetener (xylitol, steviol glycoside from Stevia), emulsifier (lecithin, sucrose palmitate), flavoring (lemon), preservative (sodium benzoate, potassium sorbate).

| Ingredients: | Per daily dose (10ml): | %NRV |
| --- | --- | --- |
| magnesium | 125mg | 35 |
How to use

The right dosage depends on various factors, such as your physical condition or certain eating and living habits.
Our recommendation: mix 2 x 5 ml in a glass of water or juice daily.
Safety instructions

Store cool and dry. Once opened, keep refrigerated and use within 2 months. Shake well before use. Excessive consumption can have a laxative effect.

Keep out of reach of children. Dietary supplements are not a substitute for a balanced diet.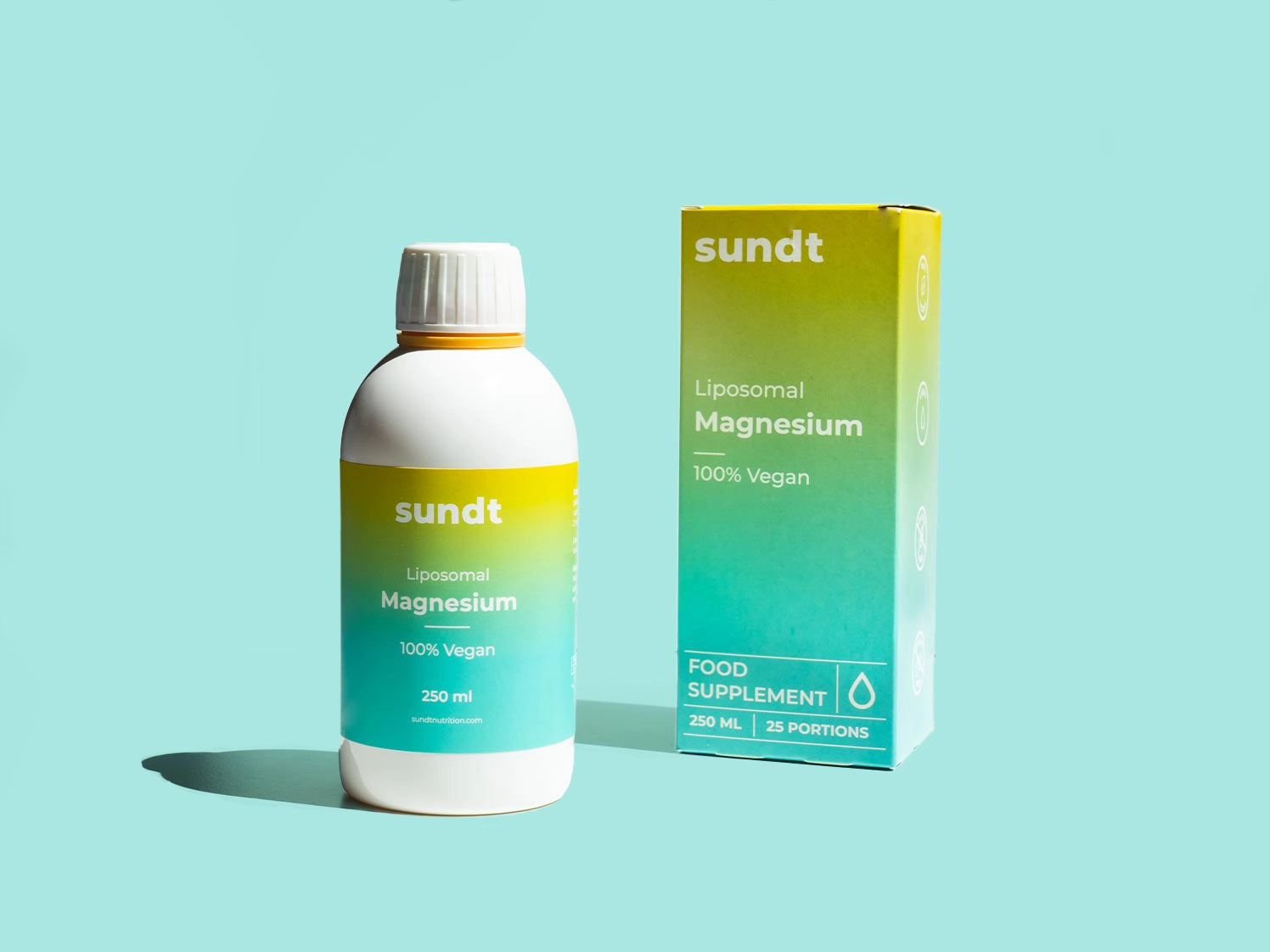 Magnesium for a reliable body
The mineral magnesium is involved in many different processes in your body. On the one hand, it is essential for your metabolism. It plays a crucial role in the regulation of calcium and potassium metabolism, for example. On the other hand, magnesium is also involved in many muscle and nerve functions in your body. Athletes who are often affected by exhausted muscles or sore muscles like to use magnesium supplements for faster regeneration. Added to this is the enzyme-activating effect of magnesium.
Since the body cannot produce magnesium itself, external intake is important. The easiest way to do this is with magnesium supplements like ours.
metabolism expert

Magnesium supports you in many important metabolic processes in your body.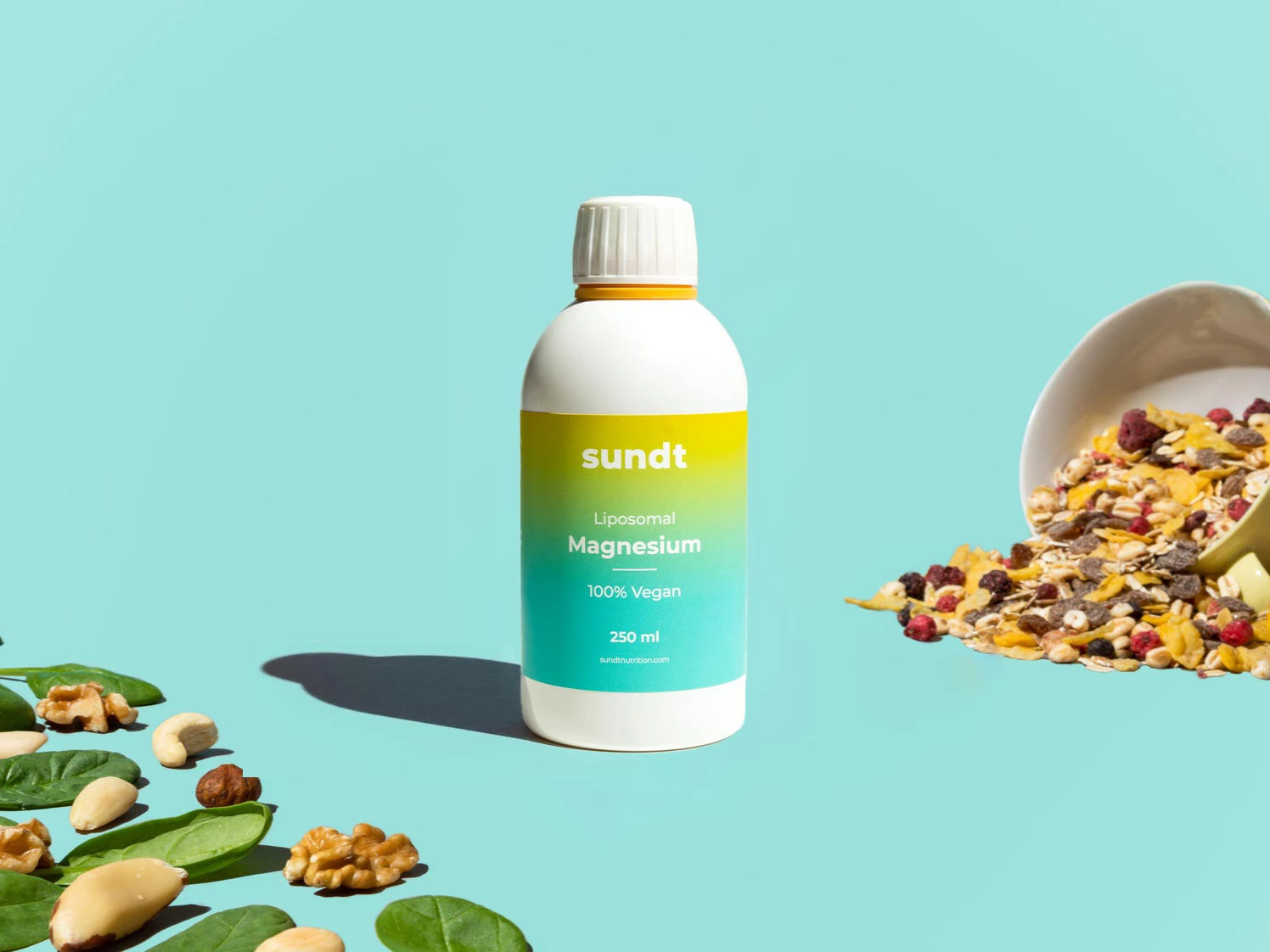 What makes our magnesium so special?
High quality ingredients

We only use high-quality and vegan ingredients to produce our liposomal magnesium. We add the patented active ingredient complex Optinerve® to our magnesium, which also supplies the preparation with zinc, selenium, chromium and taurine. This makes our product even more effective. During production, we also avoid unnecessary additives and genetic engineering, as well as sugar and gluten.

Without additives and GMO-free

Our supplements focus on the essentials. We do not use sugar, gluten or genetic engineering in production.

High bioavailability

Thanks to liposomal processing technology, our magnesium offers you full absorption. Your body will find it easy to use the substances properly.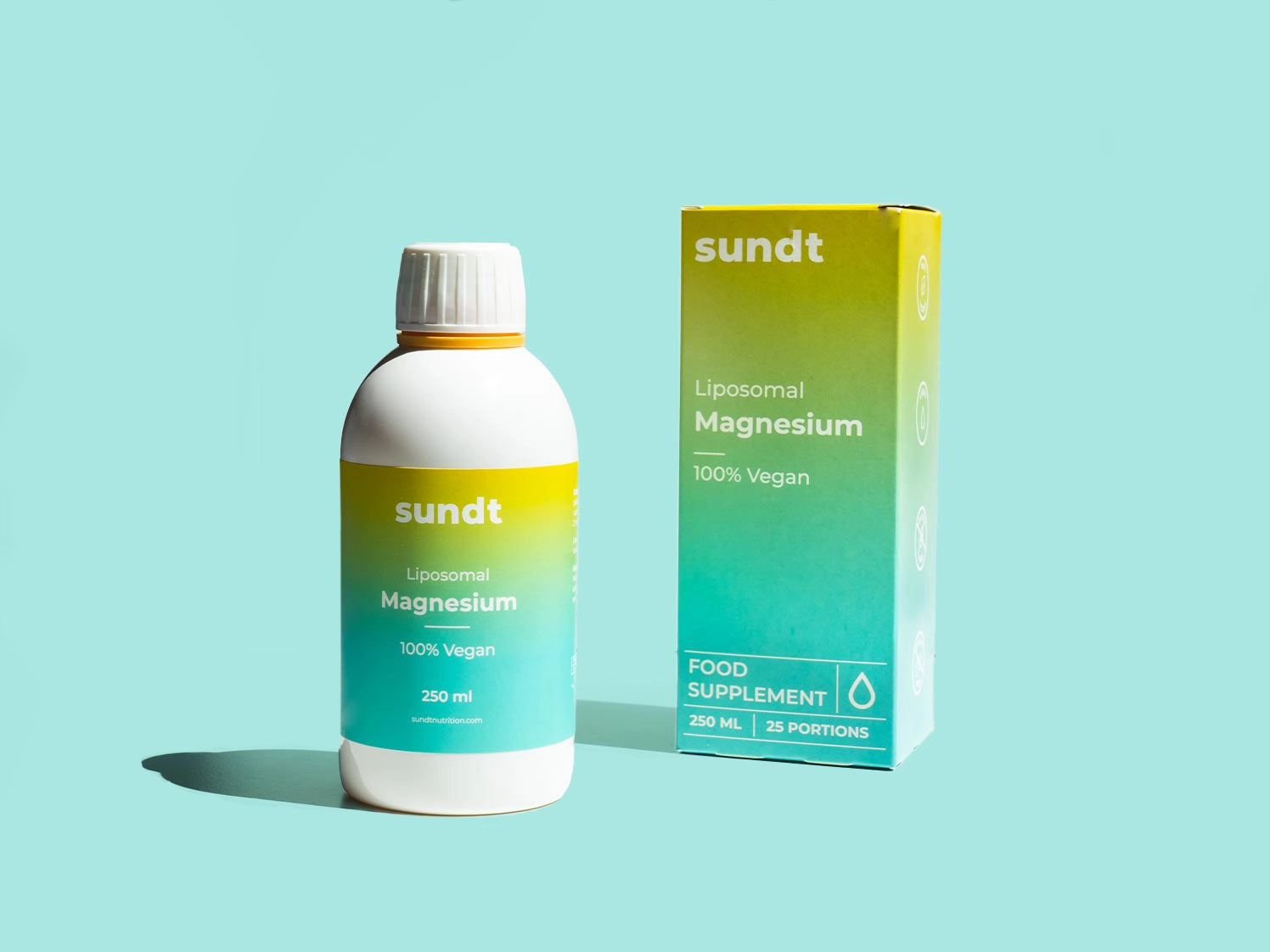 Liposomal Magnesium
Why: essential for metabolic processes
Magnesium plays a crucial role in the regulation of calcium and potassium metabolism in the body. Magnesium is also involved in many muscle and nerve functions in your body. Magnesium is very helpful in regeneration after increased activity.
FAQs
What is Liposomal Magnesium?

Products that are described as liposomal have gone through a complex production process. The desired active substance (eg magnesium) is bound into so-called liposomes. Phospholipids are used for this in our products. These have the property that they can absorb both water-soluble and fat-soluble active ingredients. "Packaged" in phospholipid vesicles, the active ingredients can then be transported particularly well to the required place in your body without being badly damaged by stomach acid, for example. This makes magnesium absorption more efficient.
What are the advantages of our liposomal magnesium + Optinerve?

Because of its liposomal form, our product stands out for its high bioavailability. This is many times higher than with conventional supplements (such as tablets or capsules). It also has good water and fat solubility properties due to the phospholipids used. However, it is still stable enough to transport the active ingredient well through the body.

We have also added Optinerve to our liposomal magnesium preparation. As a result, our product contains other valuable ingredients that work best when combined. Among other things, this combination helps magnesium to be absorbed quickly and efficiently by your body.

Our liposomal magnesium is very easy to dose because it is in liquid form and can be adapted to your individual needs. It is sustainably produced without the use of genetic engineering. Its 100% vegan ingredients make it suitable for vegetarians and vegans. We have also avoided the use of additives such as sugar or gluten.
What and when should I use Liposomal Magnesium + Optinerve?

You can use our liposomal magnesium + Optinerve preparation for the same areas of application as other magnesium supplements. The only difference to other products is the processing and the better bioavailability.

Taking our magnesium supplement supports you in various metabolic processes. It can have a particularly positive effect on your energy metabolism. In addition, it can support you in muscle regeneration and the maintenance of various nerve functions. Taking magnesium regularly can make sense, especially if you do a lot of sport.
What happens with a magnesium deficiency?

The consequences of a magnesium deficiency can be very diverse. In particular, the neuromuscular area and the cardiovascular system can be affected. Typical symptoms can be cramps, tachycardia or atrial fibrillation. You can find out more about this topic here: Magnesium deficiency .
When is it useful to take magnesium?

Taking magnesium is particularly useful for very active people. The basis for dietary supplements should be a healthy diet. A magnesium deficiency can usually only be diagnosed by a doctor.
Should you take magnesium daily?

If your doctor has determined that you can benefit from magnesium, you can actually take it daily. For adults, we recommend a daily dose of 10 ml, which can also be divided into two portions.
What are some magnesium robbers?

Magnesium levels can be low for a variety of reasons. Poor diet, stress and certain medications are all known magnesium robbers and can lead to magnesium deficiency. In addition, exposure to toxins such as heavy metals can also deplete the body of magnesium. When magnesium levels are too low, it can lead to a number of problems such as muscle cramps, anxiety and insomnia.