Liposomal Multivitamin
Sale price
€21,00
Regular price
Unit price
per
Liposomal formula with high-quality ingredients
Completely without sugar, gluten and genetic engineering
Bottle of 250 ml, which corresponds to about 50 applications
Delivered in 1-3 business days
Details

Like all of our products, our multivitamin supplement is sugar, gluten and GMO free.

The 250 ml bottle is sufficient for around 50 applications. Our liquid multivitamin is liposomal, meaning your body can absorb it better and in a higher concentration. It helps you to take all the necessary vitamins at once in a simple and uncomplicated way.
Ingredients

Liquid food supplement.

Water, Sweetener (Xylitol), Emulsifier (Lecithins), Preservative (Potassium Sorbate), L-Ascorbic Acid, Niacin, Choline Bitartrate, D-Alpha-Tocopherol, Calcium D-pantothenate, Inositol, p-Aminobenzoic Acid (PABA), Hydroxocobalamin, Sodium Riboflavin-5'-Phosphate, Thiamine, Calcium L-Methylfolate, D-Biotin, Retinyl Palmitate, Menaquinone, Cholecalciferol, Pyridoxal-5'-Phosphate, Acidifier (Citric Acid).

| Ingredients: | Per daily dose (5ml): | %NRV |
| --- | --- | --- |
| Vitamin A | 200mcg | 25 |
| Vitamin D3 | 5mcg | 100 |
| vitamin E | 3mg | 25 |
| Vitamin B1 | 0.7mg | 64 |
| Vitamin B2 | 0.75mg | 54 |
| Vitamin B3 | 8.5mg | 53 |
| choline bitartrate | 6mg | |
| Vitamin B5 | 3mg | 50 |
| Vitamin B6 | 0.75mg | 54 |
| inositol | 2.5mg | |
| biotin | 250mcg | 500 |
| Vitamin B9 | 200mcg | 100 |
| Vitamin B12 | 7.5mcg | 300 |
| vitamin C | 250mg | 313 |
| Vitamin K2 | 7.5mcg | 10 |
How to use

The right dosage depends on various factors, such as your physical condition or certain eating and living habits. Dietary supplements are not a substitute for a balanced diet
Our recommendation: mix 5 ml of multivitamin in a large glass with water or juice and drink it about 15 minutes before meals.
Safety instructions

It is best to store our liposomal multivitamin in a cool and dry place.

Once opened, it should be refrigerated and used within 2 months. Always shake well before use and keep out of the reach of children.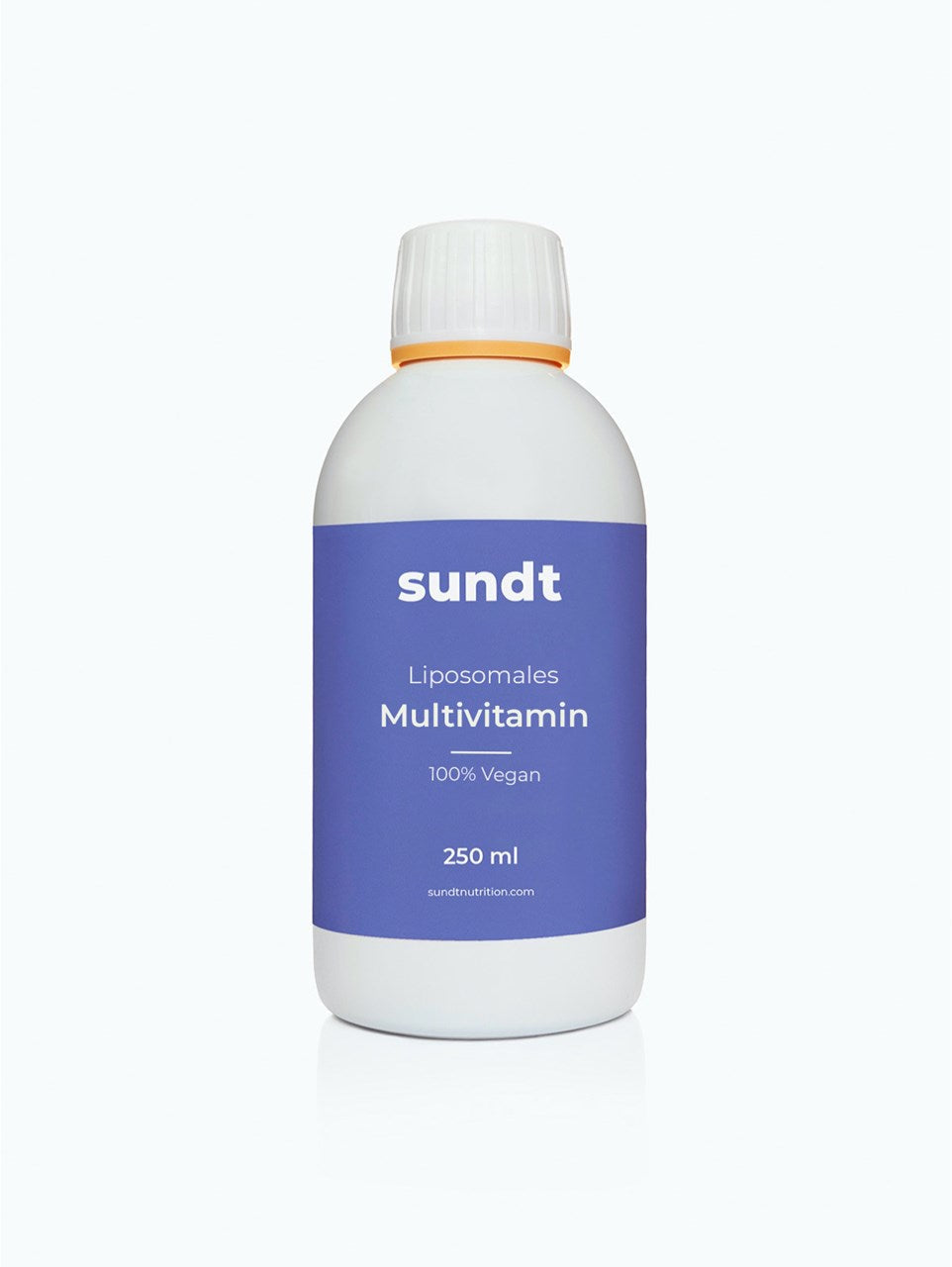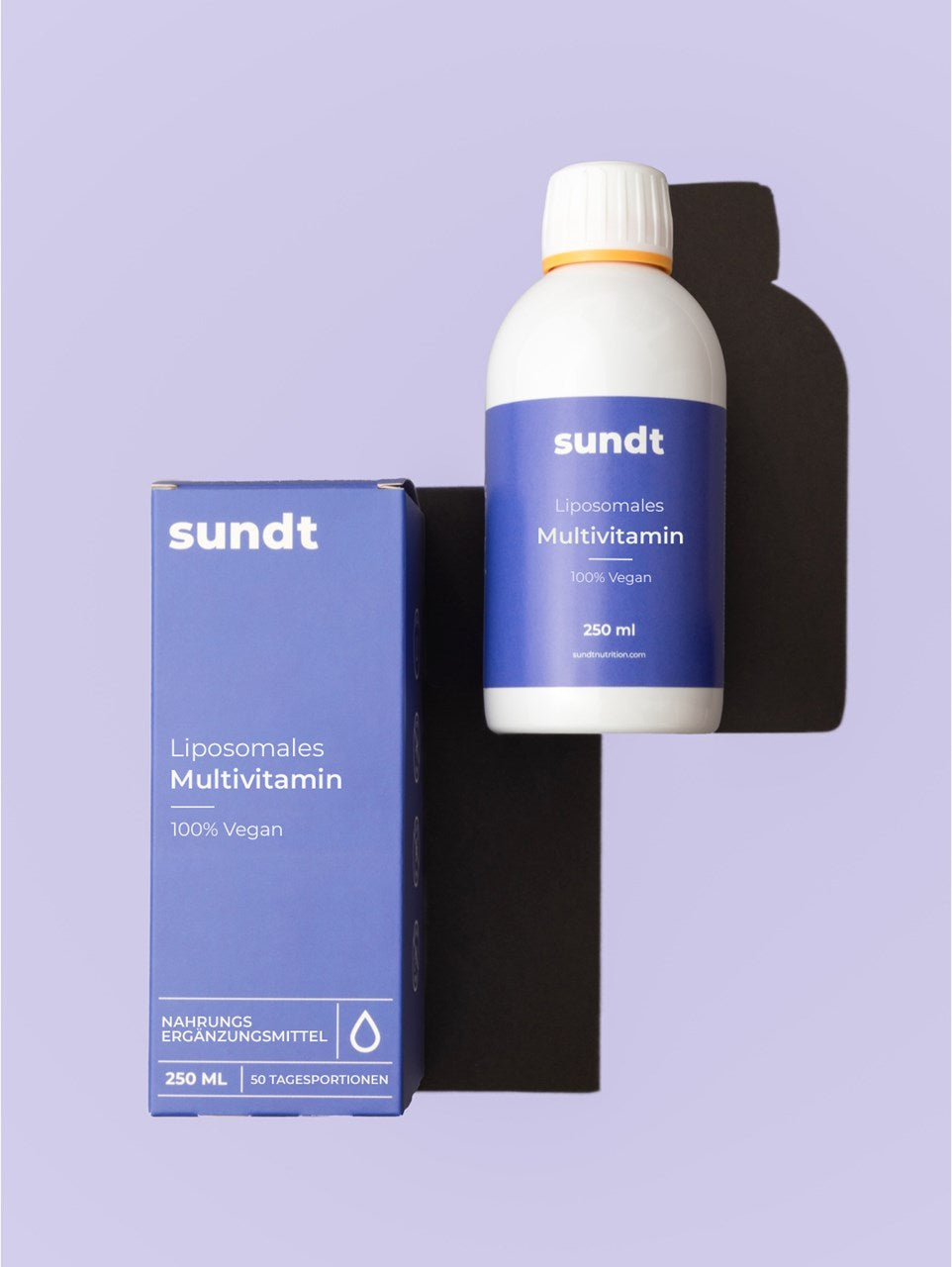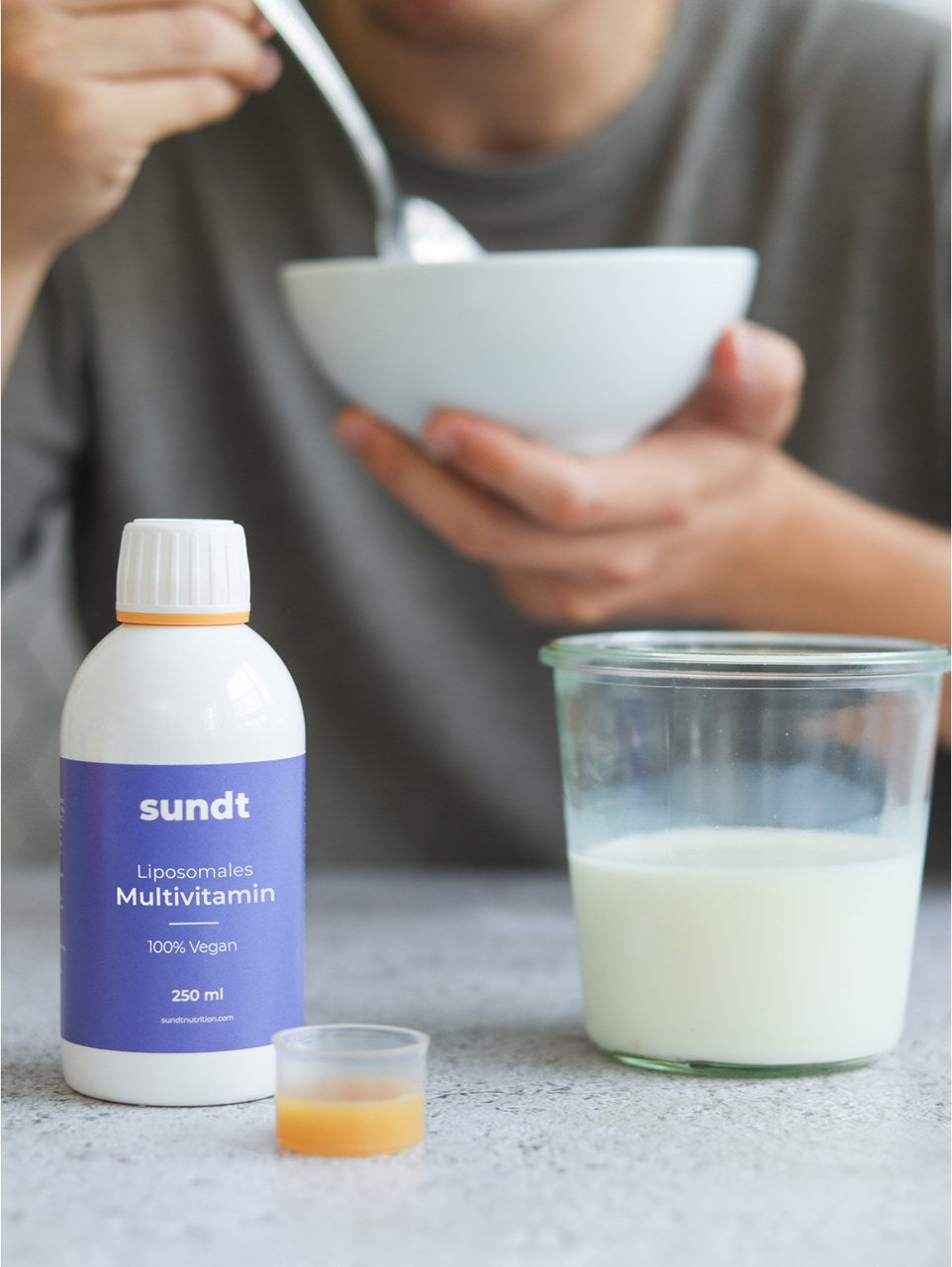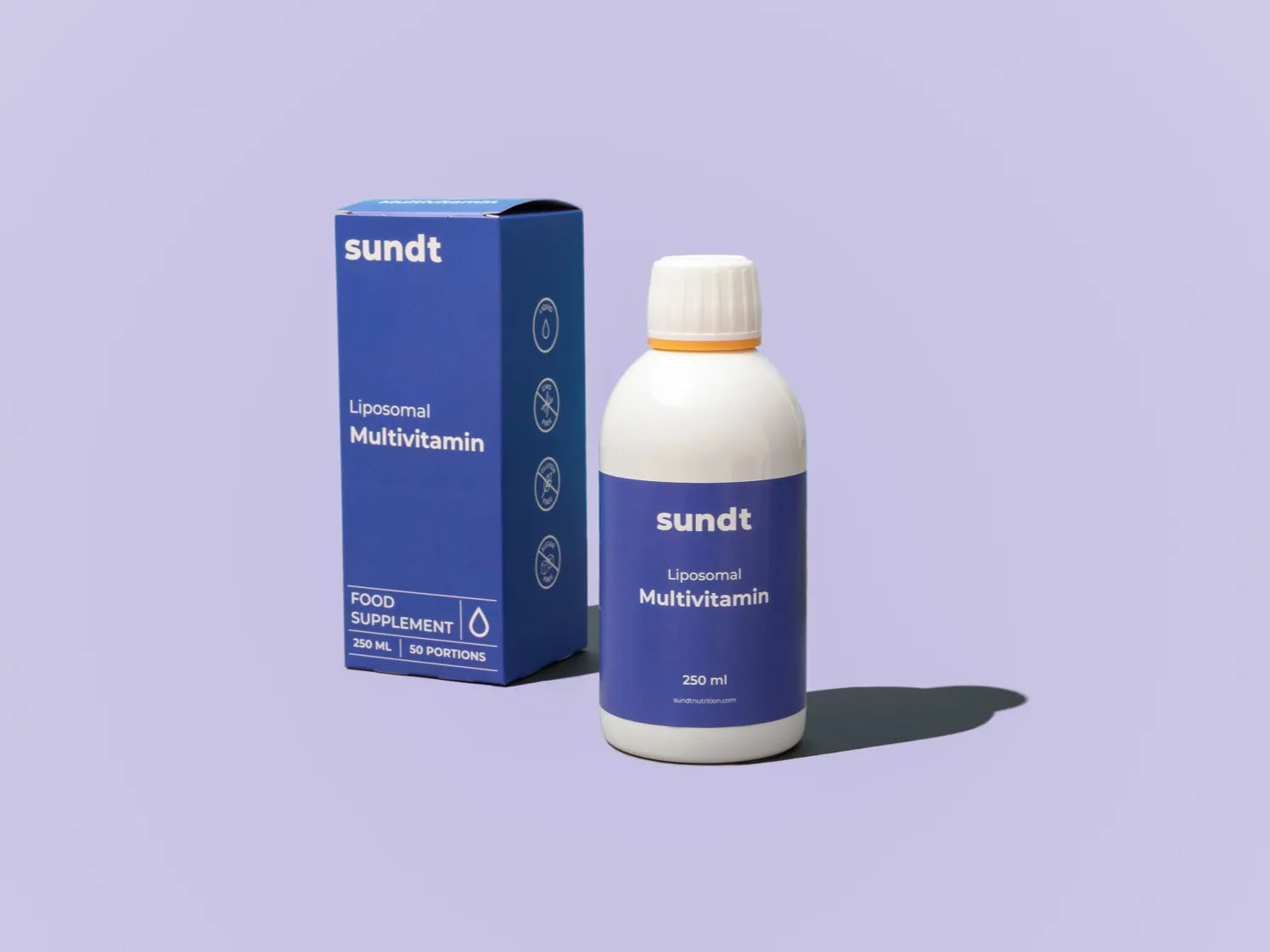 Multivitamin for a healthy body
It is not uncommon for people to suffer from several deficiency symptoms - caused by deficits in various vitamins. Too little exercise, an unbalanced diet and a lack of sunlight can also lead to this. That's why there is our liposomal multivitamin, which provides you with a power load of vitamins and thus leads to a balanced well-being.
All-rounder

Our liposomal multivitamin in liquid form is packed with the best vitamins that provide you with the most important nutrients.

Gentle on your stomach

Our liposomal multivitamin is particularly well tolerated and very gentle on your stomach.
What makes our multivitamin so special?
High quality ingredients

For the production of our liposomal multivitamin we only use high-quality and vegan ingredients. During production, we also avoid unnecessary additives and genetic engineering, as well as sugar and gluten.

Without additives and GMO-free

With our liposomal multivitamin, we focus on the essentials and do not use sugar, gluten or genetic engineering during production.

High bioavailability

Our multivitamin offers you full absorption thanks to liposomal processing technology. Your body will find it easy to use the substances properly.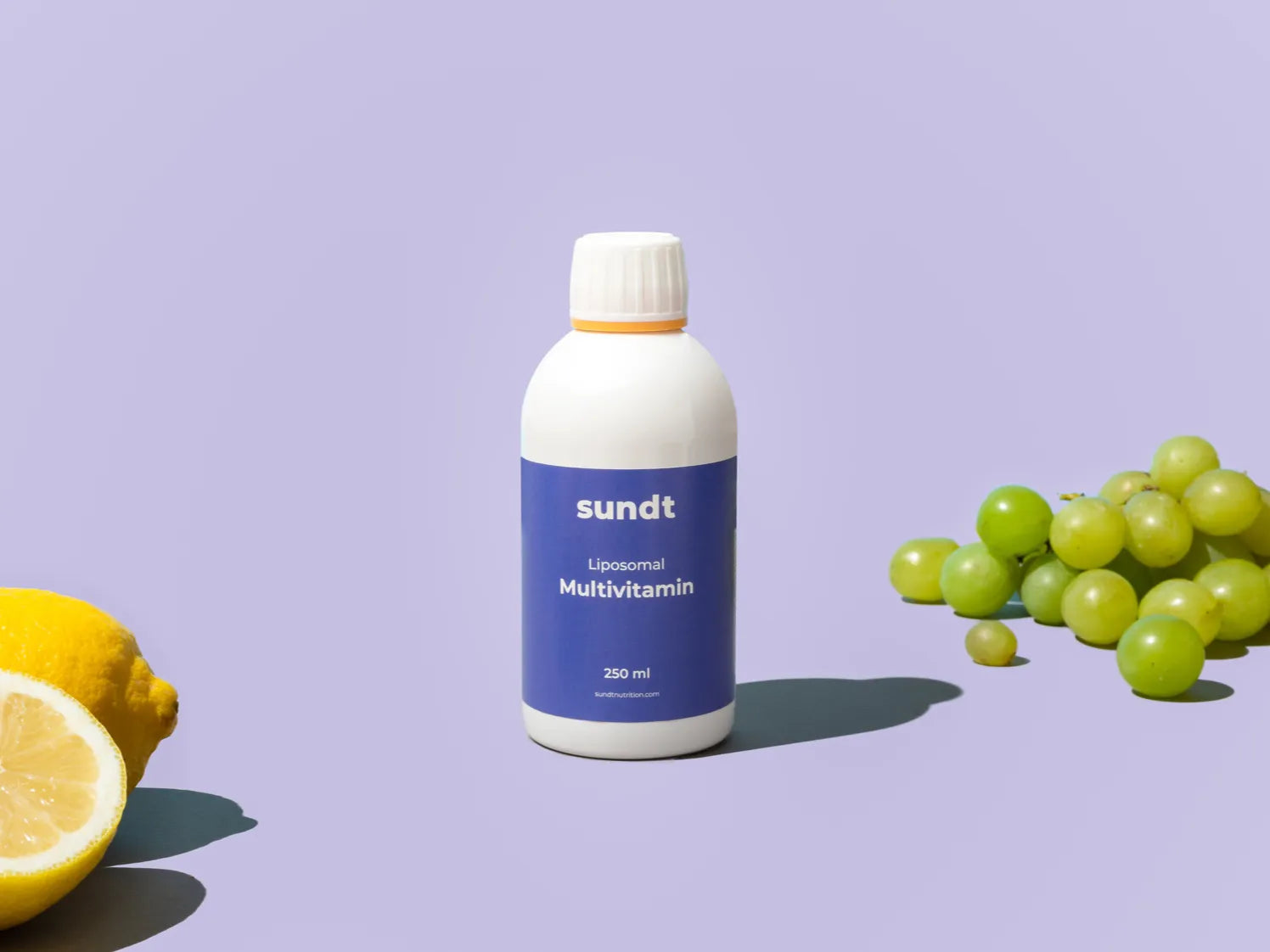 Liposomal Multivitamin
Why: essential for a strong and healthy body
Our liposomal multivitamin preparation contains vitamins A, D3, E, K2, B1, B2, B3, B5, B6, B9, B12 and C. Our supplement also contains biotin, PABA, inositol and choline bitartrate. So it is packed with many useful substances that provide you with all the necessary nutrients at once. During production, we pay particular attention to ensuring that the composition of the individual vitamins is right and does not lead to interactions. In addition, our liposomal multivitamin consists of only the best ingredients and is free of gluten, sugar and genetic engineering. And we have also dispensed with animal additives.
FAQs
What is Liposomal Multivitamin?

We use a very complex manufacturing process to produce our liposomal multivitamins. Liposomes are combined with the desired active ingredient, i.e. the multivitamins. The multivitamin is packed into a liposome shell of phospholipids. These have the property of being able to absorb both water-soluble and fat-soluble substances.

Protected by the liposome shell, the multivitamin can be quickly transported through the body to where it is needed without being damaged by digestive processes.
What are the benefits of our liposomal multivitamin?

Our liposomal multivitamin is particularly impressive because of its liposomal form. It ensures that our multivitamin preparation has a significantly higher bioavailability than conventional supplements such as capsules or powders.

Thanks to the use of phospholipids, our multivitamin has good water and fat-soluble properties, but is still very stable and can transport the active ingredient safely through your body with only minimal loss.

Water-soluble vitamins are often difficult for the body to absorb, but the liposomal form of our multivitamin makes it easier for your body to absorb all the vitamins in our supplement. That's why you should choose a liposomal product.
What are multivitamins?

Multivitamins are different vitamins that your body needs to regulate different functions. Your body gets some of these vitamins from food and sunlight. They regulate the use of ingested carbohydrates, proteins and minerals by converting these nutrients in the body. That is why a healthy diet and sufficient outdoor exercise are so important for a healthy and strong body. In addition, you can support your body and immune system in its function with a multivitamin supplement. Our multivitamin supplement contains vitamins A, D3, E, K2, B1, B2, B3, B5, B6, B9, B12 and C.
When is it useful to take multivitamins?

You get most of your vitamins and minerals from a balanced and healthy diet. But getting enough exercise in the fresh air is also important for a healthy metabolism. This is why it makes sense for some groups of people and in some situations to take an additional multivitamin supplement.

A vegan or very unbalanced diet can lead to a lack of important vitamins and minerals. In addition to a change in diet, a multivitamin supplement can also be used to support this.

Competitive athletes and pregnant women can also benefit from taking our multivitamin supplement, as they have a significantly higher need for minerals and vitamins.

Before taking any supplement, however, you should consult your doctor to ensure the correct dosage and safety.
What are the symptoms of a vitamin deficiency?

The symptoms of a vitamin deficiency can be very varied and ambiguous, so you should always consult a doctor if you suspect you have a vitamin deficiency.

Possible symptoms may include Tiredness, fatigue, poor performance, susceptibility to infection, joint pain, bleeding gums, nervousness, muscle weakness, dry, scaly skin, impaired vision and difficulty concentrating.
What are the possible side effects of multivitamin supplements?

If you have taken too high a dose of our multivitamin, the superfluous substances will be excreted from your body. This can result in gastrointestinal problems such as diarrhea and stomach pain. Rarely, skin irritation and itching can also occur.
Which vitamins should not be taken together?

Care must be taken when combining the right nutrients. Iron should not be taken together with calcium, magnesium and zinc. However, some forms of iron (such as vitamin C) can be safely combined if taken separately or at different times of the day.