Liposomal Vitamin C
Sale price
€27,95
Regular price
Unit price
per
High bioavailability and rapid absorption thanks to the unique liposomal formula
250 ml bottle, corresponds to around 50 servings
Free from gluten, sugar, genetic engineering and animal products
Delivered in 1-3 business days
Details

Our gluten and sugar-free vitamin C drops are a liposomal preparation in a 250ml bottle (corresponds to around 50 servings).

Our supplement does not contain any genetically modified substances and is also suitable for vegans. Particularly positive: The liquid form ensures high bioavailability, which means that the vitamin C is quickly absorbed and transported into your metabolism.

Our vitamin C can help you to promote collagen formation in your body, improve the utilization of iron and strengthen your immune system.
Ingredients

Liquid food supplement. Contains 1,000 mg of vitamin C per serving.

Water, Potassium L-Ascorbate, Sodium L-Ascorbate, Sweeteners (Xylitol, Steviol Glycosides), Emulsifier (Lecithins), Humectant (Glycerin), Preservative (Potassium Sorbate), Antioxidant (Alpha-Tocopherol), Flavor (Orange).

| ingredients | Per daily portion: | NRV* |
| --- | --- | --- |
| vitamin C | 1000mg (5ml) | 1250% |
How to use

To find the right dosage for you, you also need to consider other aspects, such as: B. your physical condition or certain habits.
Our recommendation: mix 5 ml of vitamin C daily in a large glass with water or juice and drink it about 15 minutes before eating.
Safety instructions

You should store our vitamin C supplement in a cool, dry place and use it within two months of opening.

Keep out of reach of children
Strengthening of the immune system
Vitamin C is a real power pack. It strengthens the body's defenses and thus your immune system, supports metabolic processes and thus helps you to have more energy and ensures a general sense of well-being. Since your body cannot synthesize most of the vitamins on its own, it has to be supplied from outside.
In order to fully cover your vitamin C requirements, you should eat a lot of fruit. Since this is often easier said than done, there are supplements that can help you with this. With our vitamin C preparations, it will no longer be difficult for you to cover your vitamin C budget in the future.
Strong defenses

Whether in summer or winter - our liposomal vitamin C supports your immune system and protects you from external influences.

energy boost

Taking our liposomal vitamin C supplement stimulates metabolic processes and gives you new strength and energy.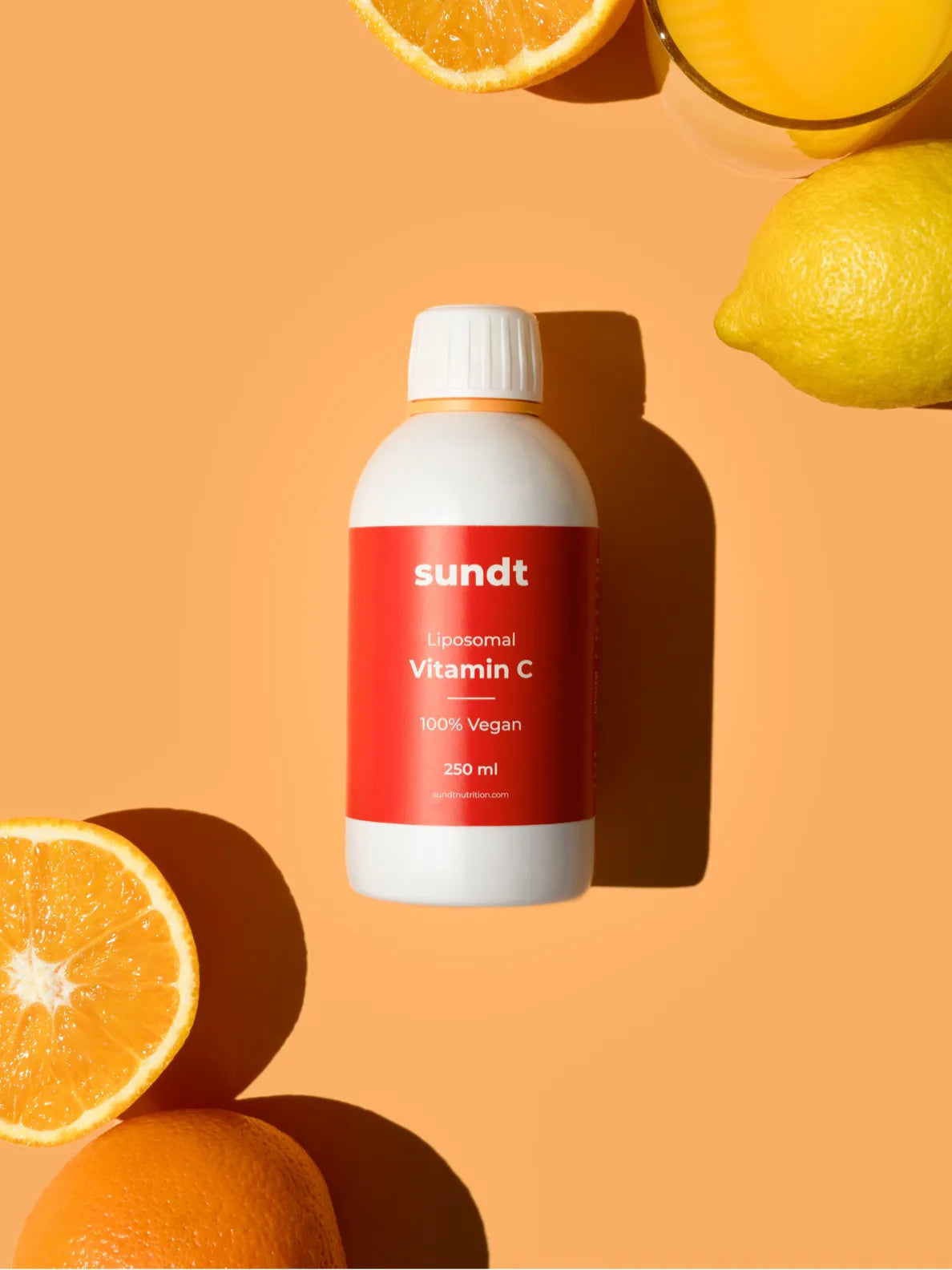 What makes our vitamin C so special?
High bioavailability

Due to its liposomal form, our vitamin C works particularly efficiently, because our products keep what they promise.

Bye bye animal additives

Our liposomal vitamin C drops do not contain any animal ingredients and are therefore also suitable for vegans. We dispense with all unnecessary additives.

Without sugar, gluten and genetic engineering

Our vitamin C supplement is free of sugar and gluten. In addition, we refrain from adding genetically modified substances and all other unnecessary additives during production.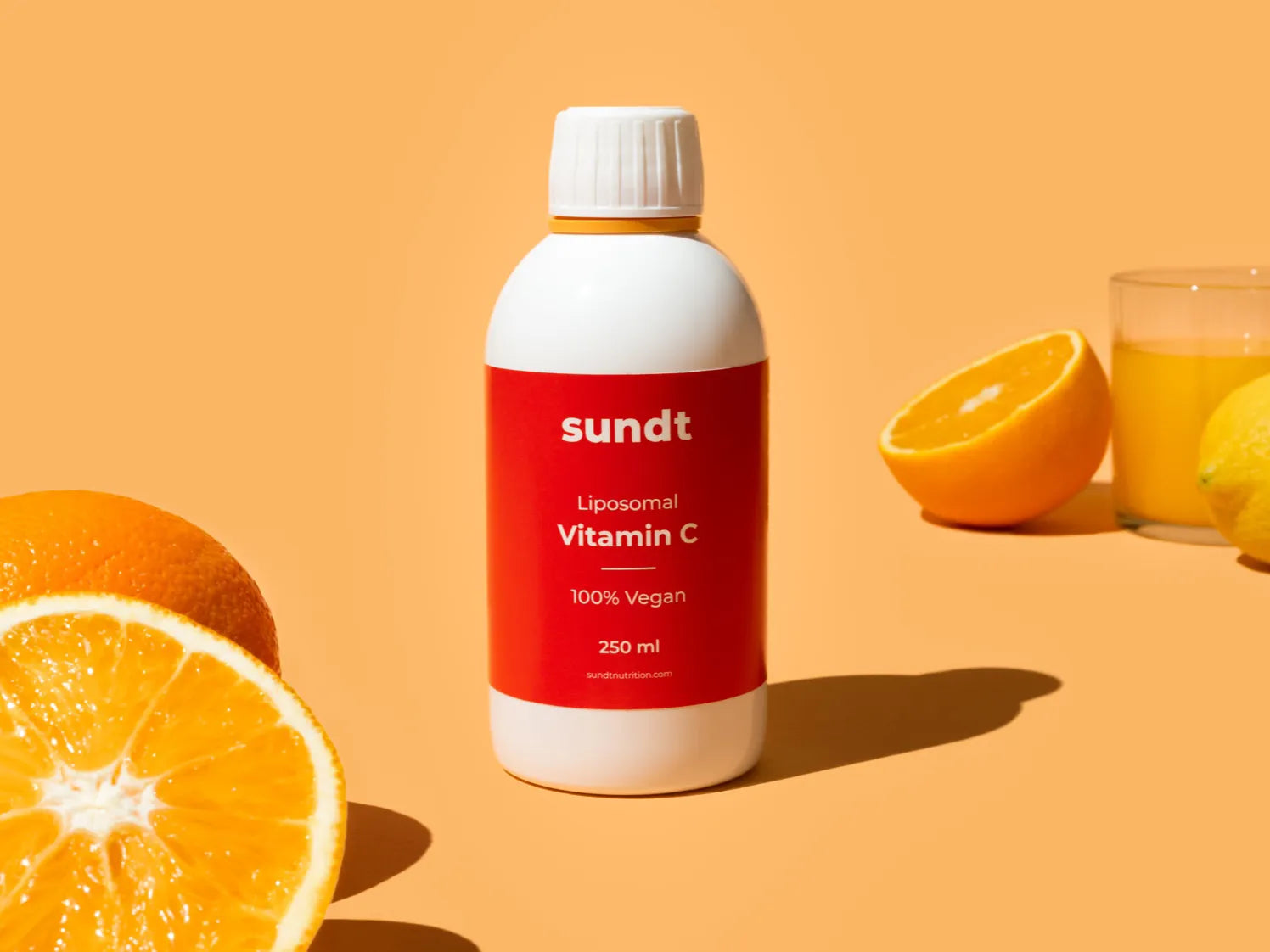 Liposomal Vitamin C
Why: Proven increase in bioavailability
It has been proven that liposomal encapsulation technology not only allows your body to absorb higher doses of vitamin C, but also to process it more easily.
Our liposomal vitamin C preparation differs significantly from traditional supplements due to this increased bioavailability. Vitamin C can only be fully absorbed by your body in the liposomal form.
FAQs
What is Liposomal Vitamin C?

We use a special and complex manufacturing process to manufacture our supplements: liposomal encapsulation. The desired active ingredient, in this case vitamin C, is "packed" in so-called liposomes. We use phospholipids for this because they can absorb both water-soluble and fat-soluble active ingredients. Embedded in phospholipid bubbles, the vitamin C can be transported particularly well to where it is needed without being destroyed by your stomach acid. This allows your body to absorb the active ingredient even more efficiently
What are the benefits of liposomal vitamin C?

Due to its liposomal form, our vitamin C impresses above all with its high bioavailability. This is compared to conventional supplements such. B. capsules or powder, many times higher. In addition, due to the phospholipids used, it has good water and fat-soluble properties and is stable enough to transport the active ingredient safely and with only minimal losses through the body. Since vitamin C is a water-soluble vitamin, you should definitely use a liposomal preparation. Water-soluble vitamins are very difficult for the body to absorb. The packaging in liposomes allows your body to absorb the active ingredient more easily and transport it to where it is needed faster. With our supplement you get an effective and efficient product that impresses with its high quality. In addition to the liposomal formulation, it is also free of sugar, gluten and genetic engineering and suitable for vegans.
What and when should I use Liposomal Vitamin C?

Vitamin C is involved in many processes in the body. Among other things, it strengthens your immune system and helps to fight harmful substances. In addition, it promotes collagen formation and therefore supports the development of bones, connective tissue and cartilage. You should take the all-rounder vitamin C especially if you want to strengthen your immune system. Malnutrition and unhealthy habits can lead to vitamin C deficiency. You should counteract this with our high-quality preparation.
How much vitamin C does the body need?

The recommended daily allowance of vitamin C depends on several factors. Men are recommended to take about 110 mg per day. For women, the recommended intake is only 95 mg per day. Pregnant and breastfeeding women should take more vitamin C. The recommended daily intake is 105 to 125 mg. Unhealthy habits, such as smoking, can lead to metabolic vitamin C losses. For this reason, smokers have a higher daily requirement of vitamin C. The recommended daily intake for male smokers is 155 mg and for female smokers 135 mg.

The amount of vitamin C you need depends on your lifestyle.
How can I tell if I have a vitamin C deficiency?

Through unhealthy lifestyles, such as alcoholism or an unbalanced diet, but also through illnesses or the intake of medication, such. B. cortisone, a lack of vitamin C can occur. The first signs of such a deficiency can be tiredness, weakness, susceptibility to infections, slow wound healing or frequent bleeding of the gums. Severe deficiency symptoms can also lead to joint and muscle problems as well as loosening and loss of teeth. If you suspect a vitamin C deficiency, you can have this clarified by a doctor.
When is the best time to take vitamin C?

In general, it can be said that vitamin C can be taken at any time of the day. Nevertheless, the effectiveness of the preparation can be increased by taking it at certain times. Accordingly, taking it in the morning is particularly suitable, since vitamin C only remains in the bloodstream for a few hours. It is also advisable to take it spread over the day, so that you can optimally benefit from the increased absorption of minerals and iron stimulated by vitamin C. In addition, you can combine vitamin C well with vitamin E preparations, since vitamin E reduces the oxidation of vitamin C.
What are possible side effects of vitamin C?

If you have taken more vitamin C than your body actually needs, it is usually no big deal. Healthy people simply excrete excess vitamin C in their urine. But some people are more sensitive to the vitamin. Too much can cause digestive problems or diarrhoea. People with kidney disease should be particularly careful about taking vitamin C. If the kidneys are not working properly, taking too much vitamin C can increase the formation of oxalic acid, which can lead to the formation of kidney stones.

Those who are sensitive to vitamin C but still want to boost their defences should consider taking zinc. The following article shows you how to boost your immune system with zinc: Boosting the immune system with zinc: Die wichtigsten Fragen und Antworten.