Liposomal Vitamin D3+K2
Sale price
€14,95
Regular price
Unit price
per
Liposomal formulation for high bioavailability
High-quality ingredients and free from additives such as sugar and gluten
Bottle of 60 ml, corresponds to around 30 applications
Delivered in 1-3 business days
Details

Our vitamin D3 + K2 supplement is a liposomal preparation in a 60 ml bottle, which corresponds to around 30 applications.

The naturalness of the ingredients and sustainability in production are just as natural to us as the avoidance of unnecessary additives, genetic engineering, gluten and sugar. Vitamin D3 and K2 complement each other in their tasks and have an increased bioavailability due to their liposomal form.
Ingredients

Liquid food supplement.

Water, sweetener (xylitol), emulsifier (lecithin), humectant (glycerin), preservative (potassium sorbate), menaquinone, cholecalciferone, flavoring (apricot), antioxidant (alpha-tocopherol), acid (citric acid).

| Ingredients: | As a daily dose: | %NRV |
| --- | --- | --- |
| Vitamin D3 | 50mcg/2,000IU | 1000 |
| Vitamin K2 | 90mcg | 120 |
How to use

Your diet and lifestyle play a major role in determining the right dosage and can influence it. Our dietary supplements are not a substitute for a balanced and healthy diet. In addition, excessive intake of vitamin D3 can have a laxative effect.
Our consumption recommendation: Mix 2 ml of vitamin D3 + K2 in a glass of water or juice once a day and drink it about 15 minutes before eating.
Safety instructions

Unopened, you should store our liposomal vitamin D3 + K2 in a cool and dry place.

Once opened you should keep it in the fridge and use it within 2 months. Shake well before use. Keep out of reach of children.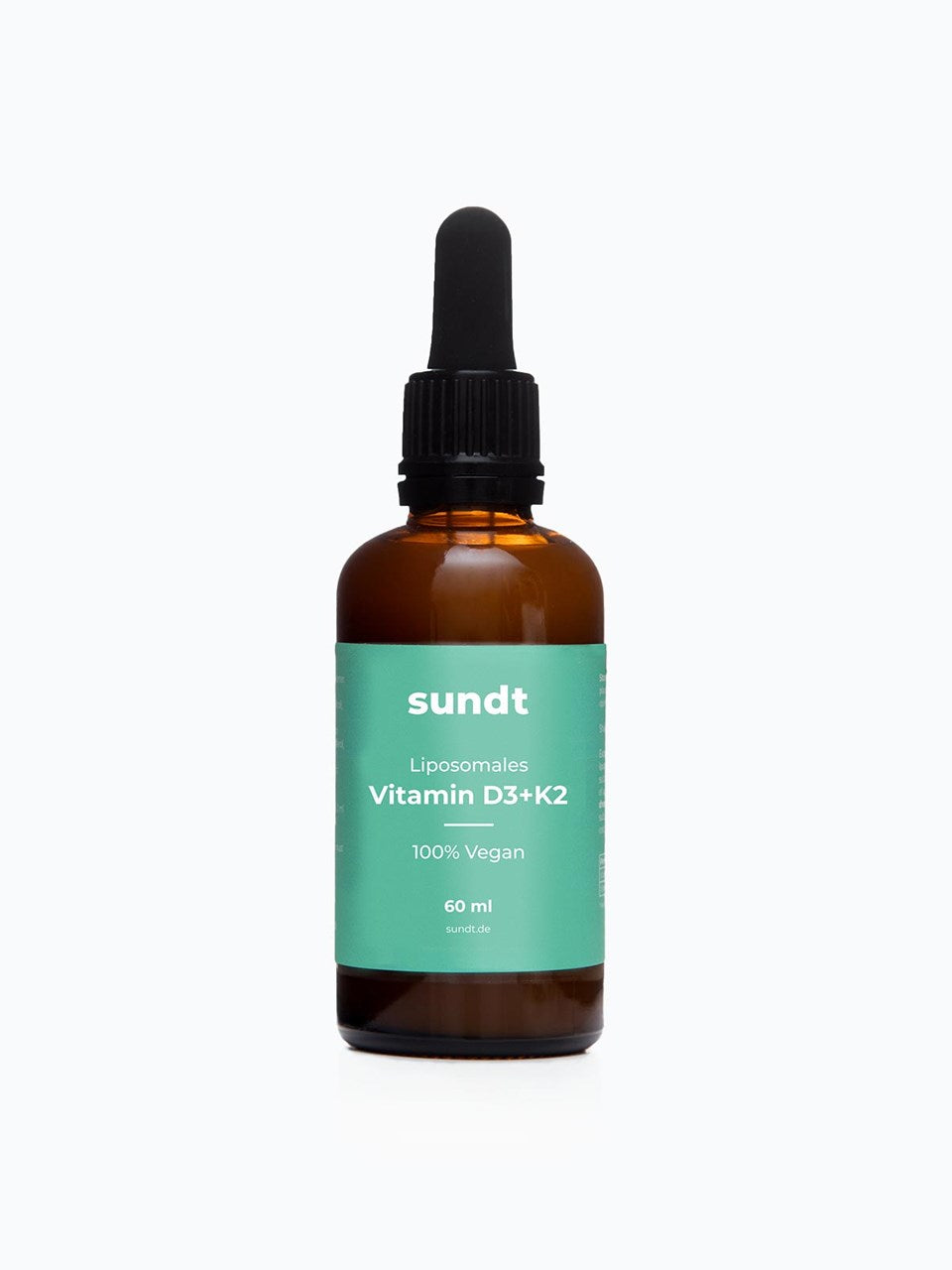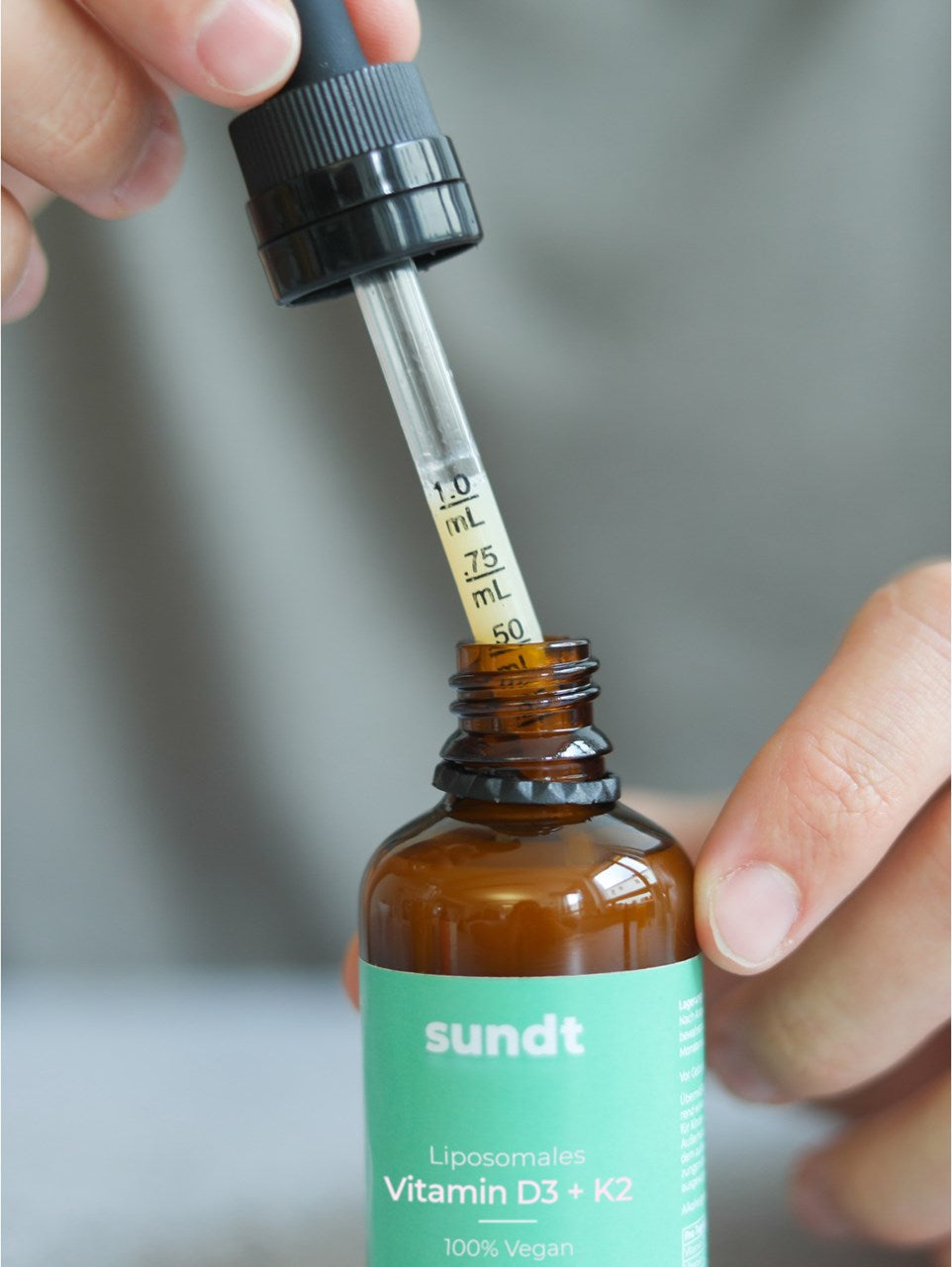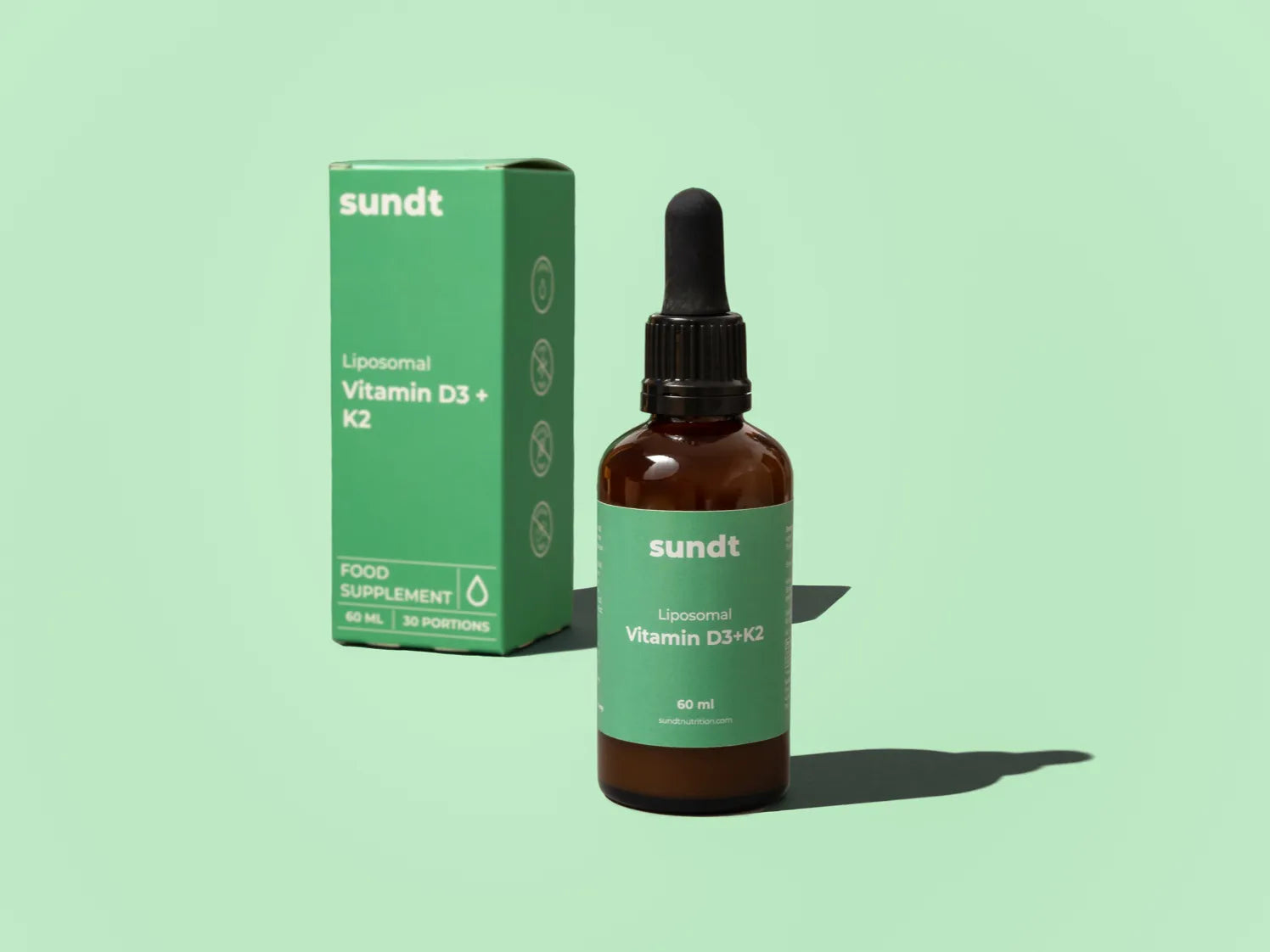 Vitamin D3 + K2 for strong bones
Vitamin D3 + K2 is a popular combination preparation. The two vitamins create a synergy in the body: Vitamin D3 ensures that enough calcium is stored in the bones. Vitamin K2 supports the process of calcium absorption in the right place in the body: the bones and teeth.
Especially in the winter months in Germany, Austria or Switzerland, an additional supply of vitamin D3 is recommended. Our combination preparation with vitamin K2 and liposomal processing ensures high bioavailability and good absorption in the body.
combination

Vitamin D3 + K2 create a synergy in the body, which is why you should definitely take a combination product.

Essential for the body

Many Europeans have a vitamin D deficiency, especially in the winter months. The consequences: Weak bone tissue and a weakened immune system. Our preparation ensures a strong immune system and healthy bones.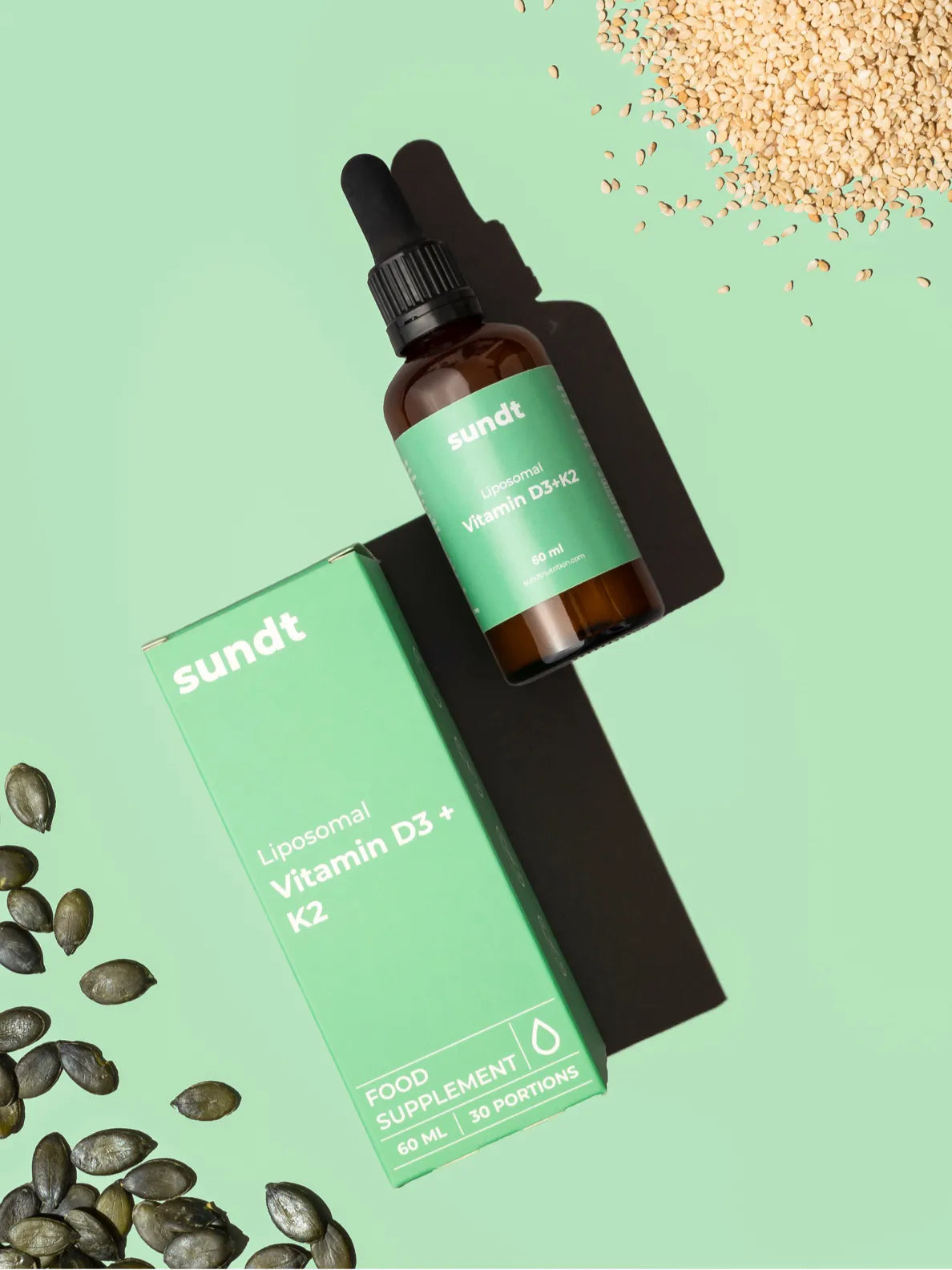 What makes our vitamin D3 + K2 so special?
High quality ingredients

As with all our products, we only use ingredients with the highest quality standards for our vitamin D3 + K2 supplement. We do without genetic engineering and all additives that are not absolutely necessary. In addition, our supplement is sugar and gluten free.

Without additives and GMO-free

We don't believe in genetic engineering and you won't find sugar or gluten in our shop either. Our liposomal vitamin D3 + K2 is free of additives and genetic engineering.

High bioavailability

Through the liposomal processing of our vitamin D3 + K2 supplements, we ensure that your body absorbs it quickly and without major losses and that it is used in the right places.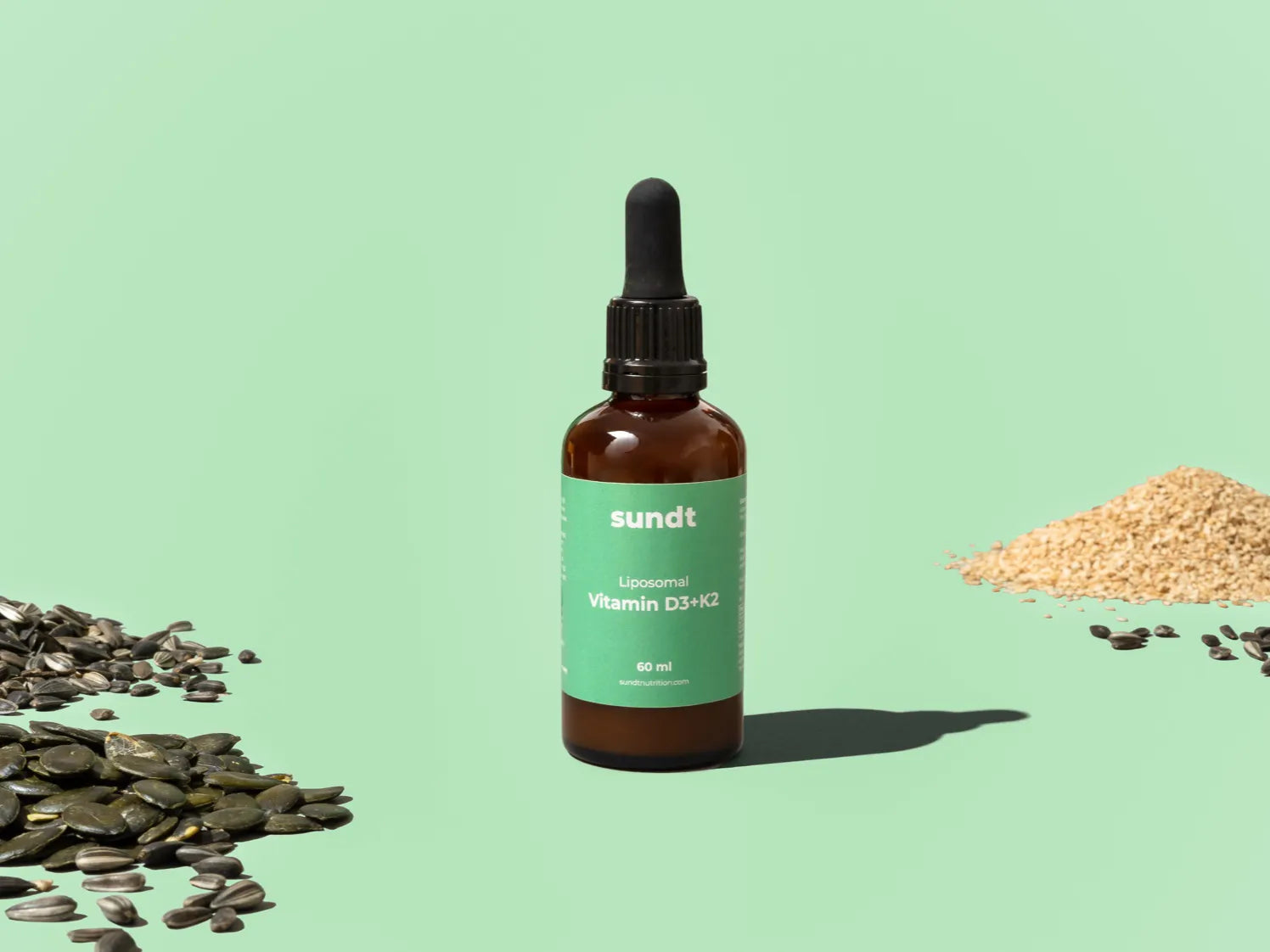 Liposomal Vitamin D3 + K2
Why: essential for bones and the immune system
Vitamin D3 and vitamin K2 are important components for maintaining bones and teeth. They form a synergy in the body. Vitamin D3 ensures that sufficient amounts of calcium are stored in the bones. Vitamin K2 supports the absorption of calcium in teeth and bones.
However, this process only works if both vitamins are present in sufficient quantities. If the body gets too much vitamin D without an adequate concentration of vitamin K2, the calcium may not be processed properly and build up in arteries.
FAQs
What is Liposomal Vitamin D3 and K2?

Vitamin D3 is a prohormone. It is produced by the body under the influence of sunlight and is involved in many processes in the body. Vitamin D3 has many different functions: It helps maintain bones, teeth, muscles and joints, and supports the immune system.

Vitamin K2 also supports the function of muscles, bones and teeth. It also has a positive effect on normal blood clotting.

Thanks to the liposomal encapsulation technique, vitamins D3 and K2 have a protective coating Liposomhülle umgeben. Dadurch stellen wir eine hohe Bioverfügbarkeit sowie eine besonders gute Aufnahme im Körper sicher.
What are the advantages of our liposomal vitamin D3 + K2?

With the liposomal technique it is possible to quickly increase the level of vitamin D3 and K2 in the blood. The high bioavailability ensures fast and efficient absorption in the body without major losses, for example through decomposition of the active ingredients in the gastrointestinal tract.

In principle, vitamin K2 does not have to be taken in addition, intake through food is often sufficient. However, most people do not manage to get enough vitamin K2 through food, which is why a combination preparation can make sense. In connection with vitamin D3, K2 is particularly important because it ensures good calcium utilization in the body.
When and for what should I take liposomal vitamin D3 + K2?

An additional intake of vitamin D3 + K2 is recommended, especially in the colder months - September to May. During these times of the year, we often do not manage to produce enough vitamin D3 through exposure to sunlight. With an additional intake, we ensure that our immune system functions properly and are thus optimally protected against viruses and other infectious diseases.
What happens with a vitamin D deficiency?

A lack of vitamin D in the body means that calcium can no longer be stored properly in the bones. This creates soft bone tissue over the long term, which can lead to fractures and other damage in old age. The first signs of a vitamin D deficiency can also be headaches, insomnia and muscle weakness. You can read more about vitamin D deficiency here: Vitamin D deficiency.
How does a vitamin K deficiency manifest itself?

A vitamin K deficiency can initially be noticed by the fact that you get bruises more often. Wounds also heal less well and bleed more than usual. This has to do with the fact that vitamin K plays a major role in blood clotting. In the long term, a vitamin K deficiency, like a vitamin D deficiency, can have a negative effect on the stability of the bones.
What are the symptoms of a vitamin K2 and D3 overdose?

An overdose is possible at a dose of 60,000 international units (IU) per day. This is 30 times the daily dose recommended by Sundt. Overdosing on vitamin D3 through diet and sunlight is almost impossible. When taking supplements, you should follow the recommended dosage or your doctor's instructions.

The first symptoms of a vitamin D3 overdose may be loss of appetite, nausea, vomiting and increased blood pressure. Other signs include increased nervousness and feelings of weakness.

Vitamin K2 is a naturally occurring vitamin in food. It is therefore not possible to overdose on it, as is the case with vitamin D3. If you take too much vitamin K2, your body will excrete the excess vitamin. This means that you will not experience any symptoms.
Why does a combination product of vitamin D3 and K2 make sense?

Vitamin B12 is also one of the vitamins that the body can only absorb in small amounts. It is therefore important to replenish your vitamin B12 stores regularly. Thanks to its liquid form, our supplement is easy to dose and can be easily adapted to your individual needs.

A natural and sustainable production process is particularly important to us. That's why we deliberately avoid genetic engineering, animal testing and any unnecessary additives such as gluten or sugar. Our liposomal vitamin B12 is also ideal for vegan and vegetarian diets. This is because we use only the highest quality vegan ingredients. We use hydroxycobalamin to produce vitamin B12, which is a synthetic substance with no animal components.